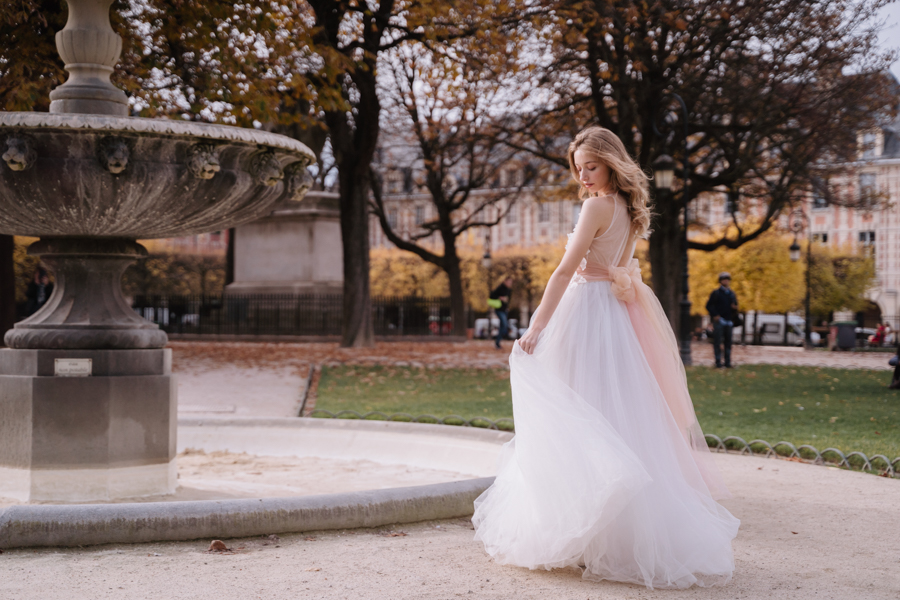 Léa Mademoiselle's dresses are all haute couture and custom made to our brides precise measurements. It takes a minimum of 3 months to make your Léa Mademoiselle dress, so we recommend that you book your appointment at least 3 months prior to your event date. (For rush orders, please contact us directly by EMAIL : contact.leamademoiselle@gmail.com)
Léa Mademoiselle is based in Paris, France. Once you schedule an in-atelier appointment, Léa, the head designer and creative director of Léa Mademoiselle, will guide you through the gown selection/tailor-made process.
At your first appointment, we will have an initial consultation. Each dress is developed with you, allowing a creative collaboration throughout the entire process. Léa begins with the inspiration, that might be a photo in a magazine or a bridal gown from your favorite movie. Then, we will choose your fabric together.
Léa always creates designs in simple cotton first and check your measurements and fabric choice before we move onto the next.
Depending on its design, Léa will make your gown in two or three stages which may require a few more fittings before adding the tiny details that will bring your dream dress to life.
We recommend allowing three months for a made-to-order wedding dress. And we may need up to six for more complex and detailed pieces.
At the last appointment, we will provide a final fitting and help accessorize your wedding day look.
For international clients, Skype consultations are available. You can order Léa Mademoiselle's dresses online according to guidelines we provide for you and by sending us your measurements in centimeters.
Production time estimate
・Bridal Gown : Standard (at least 90 working days depending on the model) / Rush (70 working days).
Price and payment method
Dresses range from 1500$ to 4500$ depending on the model :
・Luxury Bridal Gown. Price : 2000$ up.
・Wedding Dress. Price : 1500$ up.
We offer easy, convenient payment terms. Pay a third of the total price on the day you place your order. On the day of the first fitting, you pay another third. The final third is payable on the day you pick up your dress.